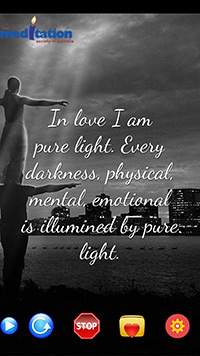 Phone and Tablet Apps
Our newest
- "Affirmations with Sunirmalya" ($0.99)
This app features over 150 (and growing all the time) affirmations authored by Sunirmalya. (author of all the classes here)

They are focussed on entering and staying in the flow of love.

Operation: - It's very simple, the affirmations appear on the status bar and also on the main page and you can select whether they will keep coming every 30 minutes through to once a day. I found every 30 minutes great for the first day but later changed it my current setting which is every hour.

You can also choose the next affirmation if you are not keen on the one presented but I personally haven't found one that has not made me stop and want to work on.

If you find one you really want to keep you can hit the favourites button and it saves it as a screenshot..

I love this app ***** - really worth the $0.99

It just keeps coming up at the right moment and reminding me to go a little deeper.




"Flow of Love" ($0.99)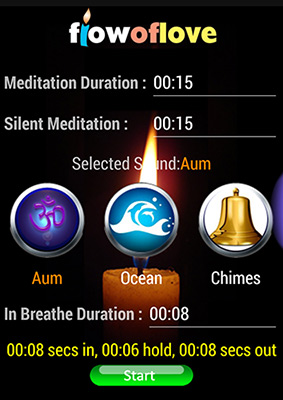 I found this quite a challenge to begin with but then decided to really give it a go and from then it has been fantastic.

It uses some ancient breathing techniques known as pranayama as a background to a profound meditation on the flow of love.

Operation: - I would recommend starting with no less than 8 secs as your in breath duration. I am at 10 secs and that is perfect for me. The meditation exercise than asks you to breathe in for 8 secs, hold for 6 secs and breathe out for 8 secs.

There are chimes or the sound of the ocean or the chanting of Aum (as you select) that prompt you through the process as well as a guiding voice if you so choose.

The fun part and the bit I really like about this app is the slideshows that roll through every complete breath cycle.

There are three seperate albums for Places, Animals and People. It takes some work as the interface is pretty clunky but it is well worth the time. I have heaps of beautiful places and animals pics and got a heap of my friends and i just love the randomness of the selections and that i get to say thanks while i am doing this beautiful meditation.

The audio playlists aren't really worth the effort - i just put on some music if i want to with my music player..


I honestly think it is my favourite meditation and definitely my 'go-to' when i am not feeling like meditating.