Exercise 34 - Hypnosis & Meditation


Alternate download sites>>





Prepare for your meditation as usual
Please sit and concentrate for a moment.
In this exercise we are going to try both self-hypnosis and meditation and see the difference. Let's start with hypnosis and I am going to ask you to count down from 10 to 1 where 10 is your entering awareness and 1 is located in the still, silent depths of your subconscious. Imagine you are walking into a room filled with books, it is silent, peaceful and tranquil. Let's start 10,9,8 – see the numbers and feel them taking you deeper and deeper. 7,6,5 – silent, still. 4,3 – deeper and deeper 2,1 .. Now you are deep in your subconscious, the books all around you are all the past habits of your life. Some are very positive and some are not. Just sit for a while and feel the peace here. If you find yourself distracted count down again from whatever starting point you need to get to 1. 3,2,1 deeper and deeper.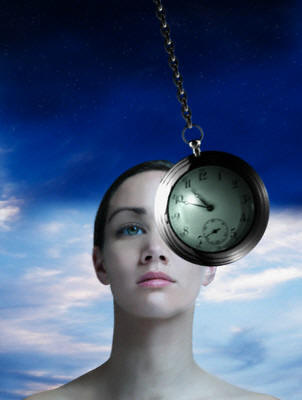 Take the time to really just sit and soak in the feeling here. Thank all of these books for helping you so far in your life. They have worked so hard for you and you are the author of every one of these books, of every one of these habits, and so you feel very proud.
Then whenever you are ready go to the shelves and find a really positive book. Read the title and you will know the whole contents. What is it about? Take your time. Count down again if you need to, if you lose focus
Then let's go and look at some of the books you have written that might not be so positive. Some of your negative habits. Take your time and just choose one. Before you look at the title, thank this book, it was written by you at a time in the dim dark past when that was the best you knew. Accept it, offer your gratitude and then read the title. Count down again if you need to. What is it about? You know the contents. Why did you write that book? Did someone teach you that story? Explore it some more, read every page if you need to. See how that habit makes you feel. See what triggers that book. What feelings do you have to have before this habit kicks in.
Then gently and calmly we are going to rewrite that book. Begin with the trigger and reflect upon an affirmation that increases the unconditional flow of love in your life. Count down again if you need to. Contemplate what would be the highest outcome for this trigger. Ask for guidance from your heart, if you need help. See the old pages being blanked out as you get ready to write. This old habit is about to be rewritten. Feel calm and at peace, then taking the pen in your hand, slowly and deliberately write out your new affirmation. See each letter, each word being written so beautifully upon the page. And then write it again on the next page. And again on the next. Now it is becoming effortless as though you are just watching it being written. You see the ink flowing over page after page. And finally the book is complete. And you return it this time to a new shelf where your best habits are.
Now I would like you to join me in meditation. We are going to walk up some stairs to a beautiful room at the top of this house. As I count from 1 to 7 you are going to feel yourself climbing the stairs and leaving your subconscious and entering deep into your heart, deep into the present moment. There is no more past or future, just this moment now.1,2,3 At the top there is nothing but a white room with glassless windows in every direction. 4,5
It feels to you as though you stretch in every direction you look. 6,7 That you have infinite possibilities and eternal time. And every where you feel infinite love.
Just sit and be still and soak in the peace and space and love here. Feel it pouring through you. You are complete.
Connected with every one and every thing.
If your mind wanders just count up again from wherever you feel you should start from. 4,5,6,7
I am going to count up again and I would like you to feel that you are loving more and more powerfully with every number. Start by remembering the most loving experience you can remember and then I would like you to open that up and radiate that love to other people and friends in your life. 8,9,10,11,12
Sit in that love. 10,11,12,13,14 Count up again and again. 13,14,15 Opening your love to your pets, to strangers, to your garden, your house, your car, to the forests and trees and oceans.
Feel the power of your love in this present moment. In this now.
When you are ready – you can begin to relax and contemplate your meditation experience. You might see the numbers floating by as you leave the deepest meditation state. 10, 9, 8, 7,6,5
When you are ready 4,3,2,1 – relax, open your eyes and your meditation is finished.